U. S. Senator Mitch McConnell (R) of Kentucky
I have been a political independent all my voting life, but in recent years I have become more and more disenchanted with Republican principles and practices. It has not been at all difficult for me to choose which side I
have
to support in the current Presidential campaign. The Republican Party for which I once had great respect, even when I favored a particular Democratic candidate, now represents almost nothing I believe in, either as a citizen or as a Christian. There are many things that annoy me about the Republican rhetoric. Let me list least some of them. I get irritated and sometimes incensed . . .
when the Republicans criticize the President for not intervening militarily and unilaterally against the Syrian government forces in their brutal efforts to quell the uprising in that battle-worn country. The Republicans' arrogant, chauvinistic, hawkish, and insensitive attitude about America's role in the community of nations, an attitude that propelled us into two unnecessary wars, is most reprehensible, even frightening. . .
when the Republicans resent the Democrats' criticizing them for wanting to go back to the failed policies that got us into the budgetary and financial mess we're in. But that's exactly what the Paul Ryan budget, which the Republican have so enthusiastically embraced, would do. Their trickle-down economic theory didn't work before and it won't work now. . .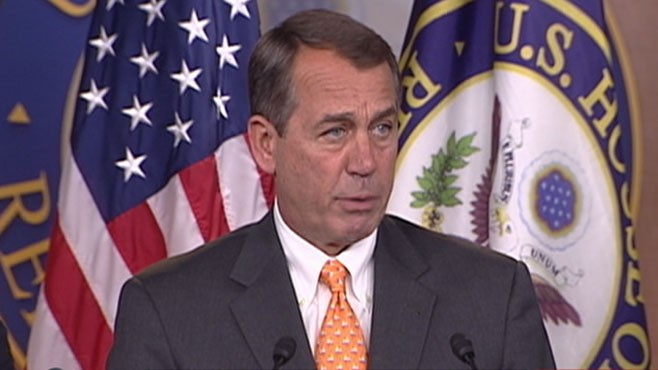 Speaker of the House John Boehner
when Republicans try to deny their war on women's rights, and voters' rights, and workers rights, and civil rights by accusing the President of "class warfare"! .
when news commentators criticize "Congress" for not doing this or that, when it's the
Republicans
in Congress who are voting "No!" on every proposal, not the Democrats! The G.O.P. has certainly proved themselves to be the "Party of No" . . .
when Mitt Romney and his surrogates repeatedly misrepresent what the President has done, is doing, and would like to do, with the cooperation of Congress, to create jobs and to stimulate the economy. In their determination to make Mr. Obama a one-term President, they will say or do anything to malign his ideas, impugn his motives, and misrepresent his intentions. . .
when Mitt Romney offers his economic platitudes with absolutely no specifics about how he is going to pay for anything. . .
Florida 's Gov. Rick Scott
when the general public and the media don't raise a hue and cry against Republican governors like Rick Scott of Florida who are blatantly engaged in voter suppression. . .
when white people refuse to recognize let alone decry the latent if not overt racism reflected in the bitter opposition toward President Obama, who has done nothing to deserve such vicious hatred. Nearly all African Americans are well aware of it.
when the President and C.E.O. of J. P. Morgan Chase is praised to the skies by Republican members of the Senate Banking Committee and is used to bolster their own opposition to government regulation of Wall Street, instead of being asked to explain why he allowed his firm to gamble with their investors money. He admitted it was a mistake, but it was much more than a mistake, It was proof of the need for government regulation! . .
when right-to-lifers refuse to condemn those who commit terrible acts of violence, even murder, against doctors who perform abortions, and their staffs, and even their patients. They refuse to acknowledge that their own incendiary rhetoric is largely to blame for the hatred that drives some pro-life supporters to commit those violent acts. How inconsistent and hypocritical are those who would support life by destroying life! . .
when people who call themselves Christians speak and act in a way that denies everything that Jesus Christ taught. Like the prophets before him, Jesus was on the side of the poor, not the wealthy, and he despised hypocrites! . . .
when Karl Rove accuses the president of trying to buy the election when that is exactly what Rove and his billionaire buddies are actually doing! It's a tactic at which Rove is particularly adept: crticize your opponent for the things of which you yourself are guilty!
when I read opinion polls that indicate this will be a close election. I know there are Republicans who will vote for
anybody
but a Democrat, but how can any fair-minded, intelligent Republican vote for a man like Mitt Romney? I just hope the majority of the electorate are discerning enough to see the difference between the two candidates. . .
President Barack Obama
President Obama is not perfect. But I trust him. After listening to Mitt Romney as a candidate, how can anyone trust him as a President? . .
Presidential Candidate Mitt Romney
What a tragedy if we Americans should choose a flip-flopping prevaricator, whose policies are aimed at helping only the wealthiest one percent, over a thoughtful, intelligent, fair-minded leader who wants what is best for the nation as a whole, and who in his first term in office has accomplished much despite the adamant refusal of the Republicans to cooperate with him. . .
Given the cleverness of the Republicans and their SuperPACs at negative advertising and dirty tricks, it's a worrisome thought!