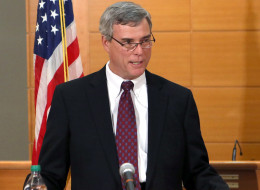 Prosecutor Robert McCullough
       St. Louis County Prosecuting Attorney Robert McCulloch's announcement earlier tonight that Ferguson Police Officer Darren Wilson would not be indicted for the shooting death of 18-year-old Michael Brown was distressfully disappointing but not at all surprising, given McCulloch's unprosecutorlike behavior with the grand jury. He has acted all along more like Wilson's defense attorney than his prosecutor.
        That is understandable but not justifiable, in view of McCullough's close working relationship with the Ferguson Police Department. That said, his role was to convince the grand jury that Wilson should be brought to trial. Instead, he abrogated that responsibility and inundated the grand jury with conflicting evidence that they were supposed to sort out, evidence that was obviously intended to justify the officer's shooting of the unarmed African American teenager. In so doing the prosecutor in effect transformed the grand jury into a trial jury, whose conclusion sounded more like a verdict than a decision whether or not to indict.