Kudos to President Obama for vetoing the Keystone Pipeline Bill. ThiNo. s was the first substantive veto of his presidency. Before this he had used his veto power only twice in six years, both on minor bills, far fewer than any of his recent predecessors. We can expect there will be more to come, unless the Republican controlled House and Senate have a change of heart and attitude and start working with the President instead of against him. . .
Catcalls to Congress for threatening to cut off funding for Homeland Security. The adverse and even disastrous effects of shutting down the government or parts of it do not seem to bother our Republican Congressional Representatives, even when they now control both Houses of Congress. They are still the Party of NO! . . .
Kudos to New Jersey Superior Court Judge Mary Jacobson for ordering Governor Chris "In your face!" Christie to restore the funds he had withheld from the Pension Fund for retired public workers. The New Jersey Governor's many troubles at home are seriously damaging his chances of winning the Republican nomination for President. His state is worse off financially that it was when he took office. And then there is the "Bridge scandal". . .
Catcalls to United States District Judge Andrew Hanen for granting, in response to an appeal by twenty-six Republican controlled states, a temporary injunction blocking President Obama's executive action on immigration. They want to pursue a lawsuit that would permanently stop the President's executive action. This is a suspiciously political decision that will be appealed and hopefully reversed. . .
Catcalls to the Republican Senators who are petitioning their colleagues on the Senate Judiciary Committee not to confirm Judge Loretta Lynch to succeed Eric Holder as Attorney General of the United States. They have even said they will not approve the Committee's action if the Committee does confirm her! This inexcusable behavior follows a hearing that Judge Lynch sailed through with flying colors. . . .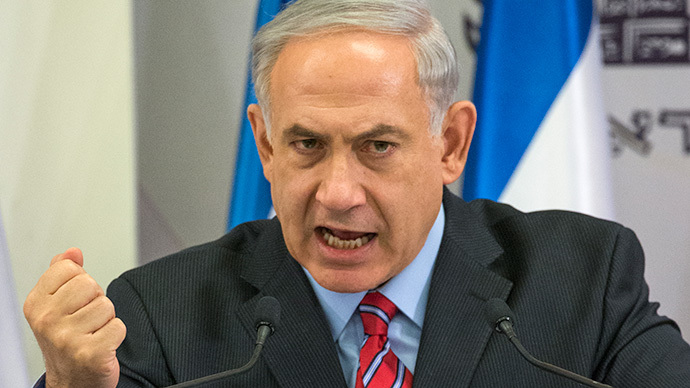 Israeli Prime Minister Benjamin Netanyahu (AFP Photo/Jack Guez)
Continued catcalls to Speaker of the House John Boehner for inviting Israeli Prime Minister Benjamin Netanyahu to address a joint session of Congress without having the courtesy to inform the President first, and catcalls to Mr. Netanyahu for accepting the invitation, not only because of the breach in protocol but because he is involved in a tough reelection campaign against the Israeli Labor Party's candidate Yitzhak Herzog. The Israeli Prime Minister favors harsher sanctions against Iran and is outspokenly opposed to the current U.S. effort to complete an anti-nuclear agreement with Iran by the end of March. So Mr. Boehner and his Republican colleagues have once again shown their disdain for President Obama by inviting a foreign leader who directly opposes their own President's Iranian policy to address them! The Prime Minister's decision may well backfire on him in the election and prove an embarrassment to Congress. . . .
Have you any kudos or catcalls to share? Your comments are most welcome. . . .