Here come Mike! Photo by J. E. Berry


If you haven't already heard about either or
both of these individuals, let me introduce you to two amazing men named Mike. They are to be admired for their athleticism as well as their patriotism.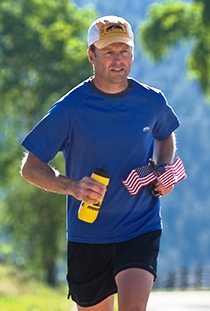 Mike Ehredt
Mike Bowen Ran a mile a day for each of the 58,282 service men and women killed in the Vietnam war. It took him 31 years, including a bout with cancer, to fulfill his mission. You can read his story here.
Mike Ehredt's story may be even more amazing. He ran from Minnesota to the Texas gulf coast, a marathon every day for 81 straight days, planting American flags along the way for each American killed in the Afghanistan war. In 2010 he ran from Oregon to Maine to honor Americans who had lost their lives in the war in Iraq. If you haven't seen this brief video of his remarkable tribute to our fallen heroes, clerk here. It is definitely worth watching. Click here to see the YouTube video.
You will be equally impressed by the photos of Mike Ehredt's exciting odyssey. Click here.