By Bob Golon
Special Contributor
I'm not talking about the insurance company people that we hear about in television commercials. Instead, I'm referencing some real-life heroes in whose "good hands" I found myself yesterday morning.
My wife and I were riding on a subway in New York City, on our way out to Citi Field, for a nice day at the ballpark that we had planned for quite a while. Suddenly our train took an unexpected, violent turn. People were straining to keep themselves seated or hanging on to the balance poles trying not to fall, myself among them. When I instinctively "dug in" to keep my balance, my left hip dislocated with a distinct pop. Thankfully it popped right back in again, but the sharp pain told me that the damage had been done.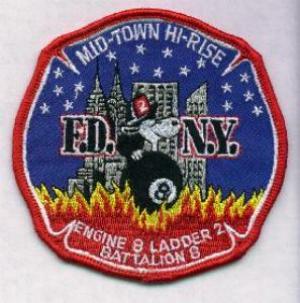 The train stopped at the next station shortly thereafter, and with the help of my concerned wife, I managed to drag myself to a bench on the platform. She then went to get help. After a few minutes that seemed like hours, she returned and told me that she had walked in to a firehouse ---Engine 8,
st
Street, and asked for their assistance.
Ladder 2, Battalion 8 on East 51
So, here they came, four young, smartly dressed, uniformed public servants. A couple of them had 9/11 patches on their uniforms, and I immediately realized the caliber of help that had come to me. I could not have felt better or more confident. These were truly the "good hands people" and I trusted them comp;letely.
I apologized to one of them for disrupting his morning, and he said, smiling, "Hey, we're here for you." I totally believed his sincerity. They put me into a special chair, tied me in, and the four of them lifted me up the two banks of stairs necessary to get outside to an ambulance waiting on the street. I thanked them profusely, but I could tell that for them, it was all in a day's work.
Every day.dependable.like clockwork!
As for me, I was taken to Lenox Hill Hospital. X-rays were negative for fractures, and I am now awaiting an appointment with my orthopedist to make sure there was no other damage to ligaments or cartilages. Hopefully, I'll be better in a few days, but for the rest of my life I will never forget being in the hands of the "good hands people," the FDNY. These public servants deserve our gratitude for all that they do, and I personally cannot thank them enough.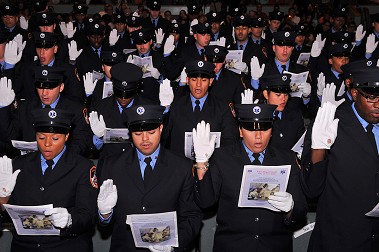 95 FDNY Paramedics and EMTs are been sworn in at their graduation from the
EMS Academy today.
By the way, the Mets won the ballgame without me, 11-3!