For two decades I participated every summer in the national conferences of the
Fellowship of Christian Athletes
. In the first fifteen of those years that always included the conferences at the
YMCA of the Rockies
near Estes Park, Colorado, on the edge of the
Rocky Mountain National Park
. Within a few years additional conference sites around the country were added to accommodate the rapidly growing program, including Ashland, Oregon, Lake Geneva, Wisconsin, and Henderson Harbor, New York. Today there are scores of campus and conferences served by a staff of more than four thousand instructors, and the
FCA
is the largest sports program in the world.
Although I am a Trustee Emeritus of the National Board, I'm not as actively involved in the FCA as I was for many years on both the national and the local level, having helped found four local chapters, and having served in just about every role in the summer conferences, from huddle leader to song leader, from platform speaker to devotional leader, from editor of the camp newsletter to Conference Dean. In my book
A Sense of Being
Called
I have related the story of how I came to be involved in the FCA at the very beginning of the program.
But that's not what I want to talk about in this article. Rather I want to talk about our country, about America the Beautiful. This is not about politics, or sports, or music, or any of the other topics I'm usually writing about. The reason I mentioned the FCA and my participation in the national summer conferences was to explain how it came about that my family and I in the course of the first ten of those fifteen years were in every one of our contiguous forty-eight states.
We traveled many roads like this.
In those days we had a station wagon, and I used my vacation time to drive our family to the conferences. My parents used to wonder how my wife Margie and I could enjoy traveling thousands of miles in a station wagon with our three, then four, young children. Our daughter Elsie was only a few weeks old, when she made her first trip with us!This was before air conditioning and seat belts! But we loved it. We would talk about the trip for weeks in advance, and the children would get more and more excited as we pored over maps and planned our routes.
We developed all kinds of family traditions over the years that made every trip an exciting and fun-filled adventure. We played games, and harmonized, and had great discussions and daily family devotions in the car, and we made every day an adventure. We have photographs, and slides, and home movies to document our family cross-country treks.
The children knew their respective roles and responsibilities, as we packed and unpacked at motels along the way. Growing older only increased their appreciation of our family excursions. Ellen, our oldest, ended up working at the conferences, until as a college student her other summer plans took her elsewhere. So, too, with our two sons, Andy and Woody.
Many families like to camp out, but we preferred staying in motels. We probably could have made the Guinness Book of World Records for having stayed in the most motels as a family over those ten years! That was part of the fun for the children, who would be in the pool soon after we arrived and who loved going bowling or to a drive-in movie, before turning in. Often we would visit friends along the way, and that was always fun.
The Rocky Mountains
How could we afford that on a pastor's salary, you might ask? The answer is that the FCA sent us money for airline tickets for Margie and me, but instead of flying, and with the blessing of the FCA, we used the money to help fund our drive across the country. Using our AAA tour books we would read about every town we visited, and about each state, and we would drive out of our way to read a historical marker, or to visit a museum, or National Park, or anything else we felt was worth seeing.We would always explore the towns we stayed in, engage the natives in conversation, and learn as much as we could about every place we visited.
We had a traveling theme song which we sang every time we crossed a state border, which was our way of bidding farewell to the state we were leaving and hello to the state we were entering. It was also a geography lesson for the children. On the first day of our trip we would be in three, four, five, or even six states (e.g., NJ, PA, DE, MD, VA, and NC). The first time we drove across Texas, the children kept wondering when we were going to sing our theme song. They quickly learned how big Texas is!
Over the years we discovered that every state has its unique beauty. We loved the contrasts in the terrain, the snow-capped mountains of Colorado and the far-stretching plains of Kansas. We loved the pine forests of Maine and the
Petrified Forest
of Arizona. We loved the canyons, the caverns, the rivers, the lakes, the rugged peaks of the west and the rolling hills of the east. We loved the beaches of the Gulf states and the scenic coastline of California and Oregon. We've loved every national park we visited ---
Yellowstone
, and
Zion
, and
Bryce Canyon
, and
Glacier
, and
Yosemite
, and
Crater Lake
, and the
Grand Canyon
, the
Black Hills National Forest
of South Dakota and the
Mt. Rushmore National Monument
--- we could not begin to name them all, and there so many we haven't seen!
We loved visiting historical sites like Independence Hall in Philadelphia and restored areas like
Colonial Williamsburg
, Virginia, and
Plimouth Plantation
, Massachusetts, and
Connie Prairie Village
, in Indiana. We loved old forts and harbors and dams and water falls, and bridges and skyscrapers and college campuses and the military service academies (especially West Point and Annapolis), and architectural wonders, and redeveloped urban centers, and town squares, and white country churches, and Interstate highways, and winding county roads.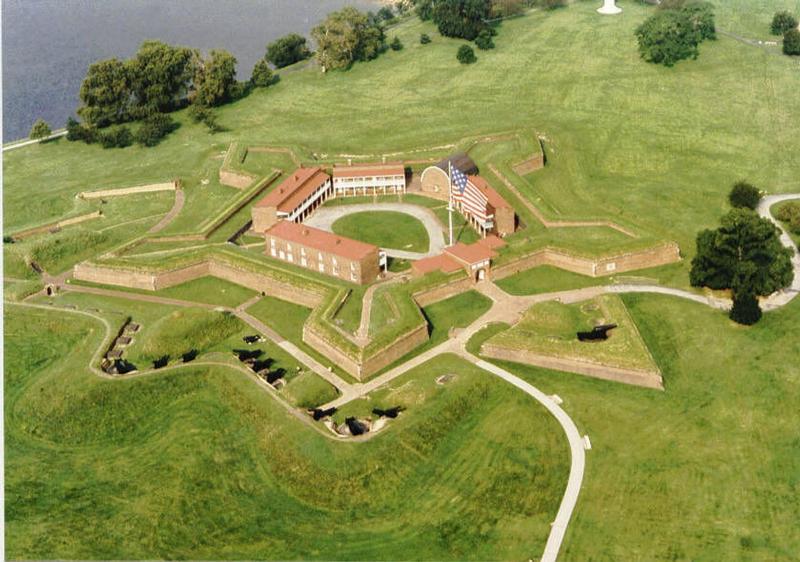 Fort McHenry
There is so much to see and do in every state, including Hawaii and Alaska, of course, but we couldn't drive to either of them! It took us ten years to cover the forty-eight we did visit. Margie and I love to drive places and we have continued to visit other parts of our beautiful country, such as in recent years Cooperstown, New York, which has much more to offer than just the
Baseball Hall of Fame
, including, for example, the fascinating
Farmers Museum
and the impressive
Fenimore Art Museum
. We love
Fort McHenry
and the
Inner Harbor
of Baltimore, and the beautifully restored city of
Wilmington, North Carolina
, a relatively undiscovered gem.
I could go on and on, but I hope I've said enough to justify my claim that America is an amazingly varied and beautiful country, and every state has much of which to be proud. I suppose when asked to name their favorite state most people would be inclined to name their home state, for sentimental if for no other reasons.
Given that reality, what is your favorite state to visit, other than your own? And why do you like it? Do you have a favorite city? I invite you to tell our readers something interesting about your favorite city or town or national park, and why you think it would be a nice place for others to visit. Let's see if we can come up with some helpful suggestions for travelers.Where have you been in the U.S.A. that you think others might like to go?
Write your answer in the comment box below and let's start a dialogue about this beautiful country of ours.